Presenting WCEF's 3rd Annual Winter Raffle!  
This online event runs January 23 ~ February 4, 2023
Offering your chance to win one of TEN great prizes!
Raffle Tickets: $5 each or 6 for $20
View the 2023 Winter Raffle Program to read the full descriptions of this year's raffle items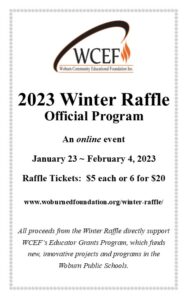 Important Information to Note:
Raffle ticket entries must be received by midnight on Saturday, February 4, 2023
Winners will be drawn on Monday, February 6th and will be notified by email on February 7, 2023
Raffle ticket purchase confirmation with ticket stubs will be sent for each entry via US mail
Items will be delivered to Woburn and contiguous towns February 9~12, 2023
Purchase tickets online or by mail
WCEF 2023 Winter Raffle Ticket Order Form
To purchase tickets online, please complete this form:
Winter Raffle Ticket Order Form
For online ticket sales
"*" indicates required fields
This event benefits the Woburn Community Educational Foundation and our mission to increase private investment and community involvement in the Woburn Public Schools. Supporting educator-inspired projects and new initiatives to inspire creativity and innovation in the classroom.